November 23, 2015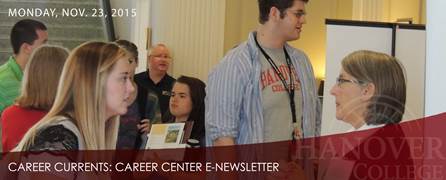 In This Issue:
Career Center Calendar: At a Glance
Side-stepping 'nosy' questions
Local Part-time Opportunities
Internship Opportunities
Professional Competency
Full-Time Job Opportunities
More Opportunities
Local Part-Time Job Opportunities
Contact Us


Career Center Calender: At a Glance
Mon., Nov. 30: Total Quality Logistics Presentation (3-4 p.m. in Lynn 120B)
Wed., Dec. 2: Marian University for St. Vincent Health Information Table (11 a.m.-1 p.m. in CC Lobby)
For full event descriptions and a complete calendar of Career Center events, click here.
For full event descriptions and a complete calendar of Career Center events, click here.

Side-stepping 'nosy' questions
Many students will be meeting up with family and friends during the coming week to celebrate Thanksgiving, which can lead to awkward questions posed by well-meaning relatives who just want a glimpse into your college life.  Michael Edmondson, formerly of The Philadelphia Center and currently at Augustana College, has an excellent take on this issue.  If you feel inclined to respond, "flip the script" and instead of being pushed to answer something you'd rather not, tell them What's your next step. If you aren't sure what your "next" is, come see us in the Career Center. We can help you with that.

Internship Opportunities
Industrial Engineering Intern:  Ingram Micro in Plainfield, IN is seeking an Industrial Engineering Intern to assist with Process Optimization and Continuous Improvement via production system analysis. Applicants should be current students with a GPA of at least 3.0. Apply online here.
Editorial Intern:  Gardner Business Media in Cincinnati is looking for a summer Editorial Intern to work with Modern Machine Shopmagazine for 12 weeks. Applicants should be current juniors or seniors majoring in English, Communication, or a related field. If interested, contact Associate Editor Emily Probst ateprobst@mmsonline.com.  
Accounting/Finance Intern: Anthem, Inc. in Indianapolis is seeking an Accounting/Finance Intern to prepare monthly standard journal entries, perform trend analysis, develop and implement improvement projects, and more. Applicants should be current juniors studying Business or a related field. Apply online here.
Material Planning Intern:  Allegion in Indianapolis is looking for a summer Material Planning Intern to order material, rectify receiving issues, coordinate deviations with engineering, communicate with suppliers, and more. Apply online here.  
Biomedical Sciences Undergraduate Research:  The University of Alabama at Birmingham is looking for students to participate in their Biomedical Sciences Undergraduate Research Program in Summer 2016. This program spans 8 weeks and is a paid opportunity for sophomore or junior undergraduates. Apply online here by Feb. 15.  
Full-Time Job Opportunities
Indiana State Police Troopers:  The Indiana State Police is currently accepting applications for its 76th Recruit Academy. Applicants should be United States citizens of at least 21 years old.Apply online here by Jan. 6.
Social Work Therapist/Case Management:  Ireland Home Based Services is looking for Social Work Therapists to fill openings in Louisville, Evansville, Bloomington, Cincinnati, Madison, and more. Applicants must be willing to travel to multiple counties per week and should have a flexible schedule. Apply online here.
Analytics Consultant: Humana in Louisville is seeking an Analytics Consultant to help develop business intelligence information to guide and inform strategy. Applicants should have a Bachelor's Degree in Computer Science, Mathematics, or a related field. Apply online here.
Environmental Scientist:  Skelly and Loy, Inc. in Hunt Valley, MD is looking for an Environmental Scientist to provide technical support for professional services including wetland and forest stand delineations, tree preservation planning, fluvial geomorphic analysis, water quality monitoring, natural resources studies, ecosystem restoration, and more. To apply, send a cover letter, resume and 3 references to jobs@skellyloy.com.
Natural Resource Specialist:  The Oregon Department of Fish and Wildlife is seeking a Natural Resource Specialist to work in Charleston, Oregon. Responsibilities include completing biological surveys, collecting samples, managing volunteers, and more. Apply online here.

Professional Competency
Professional Competency:  The best way to find out what you enjoy and where your interests lie is to Try. Stuff. Out. Join clubs, attend meetings, go to events - take advantage of the organizations on campus to find the causes and activities that resonate with you.  Once you've found "your thing(s)" stay active and take leadership roles to help expand your experience and your marketable qualifications.
Local Part-time Opportunities
Caregivers:  Right at Home is seeking caregivers to provide assistance to clients. Both full-time and part-time positions are available, but applicants must have flexible schedules. If interested, contact Laura Taylor at Laura@rightathome.com.
Customer Service:  The Madison Courier is seeking part-time customer service help to answer phones, perform telemarketing tasks, deliver missed papers, and more. Apply in person at 310 West St. in Madison.
Dining Room and Kitchen Staff:  Frisch's Big Boy in Madison is looking for part-time employees to fill dining room and kitchen positions. Applicants must be at least 17 years old. Apply in person at 460 Clifty Dr.

More Opportunities
NACElink:  Log on to your NACElink account to see more opportunities for jobs and internships.  Go to https://hanover-csm.symplicity.com/students/, enter your full Hanover email address ("LastnameF##@hanover.edu") and password and start your search.

Get Connected with the Career Center!
If you have questions about events or job openings, please contact us! You can also make an appointment to discuss resume help, job search assistance, career guidance, and grad school assistance. Feel free to email us at careercenter@hanover.edu or call Sue Tilley at 812.866.7127.